Horses from the past
This page contains a few of the horses trained and competed by Karin in the past.
Cortison "Curt"

Gelding born 1998. Cortez - Lane Court xx. Breeder: Lotta och Sten Bodin, Forsa
Competes succesfully to Int1B. Competed in small tour (St Georges and Int1) scoring more than 70 %. Winner of St George cup 2008. Bronze in Swedish championships for team in 2009 and 2012. Has a spectacular canter and usually gets 8 for both extended trot and canter, and sometimes 9 for the tempis...
2015 Curt was passed on to the talented Canadian Young rider Hannah Beaulieu and together they earned a team medal at the North American Championships. 
Videos:
20131001: http://www.youtube.com/watch?v=-uchtYCj2TU
20120920: Intermediate 1 at Djursholms elite show:
http://www.youtube.com/watch?v=43ztRMJG4DM&feature=youtu.be
20140926: Freestyle From Dressage at Devon (fast forward 10 minutes)
http://www.usefnetwork.com/featured/2014dad/
Don Gayble "DG"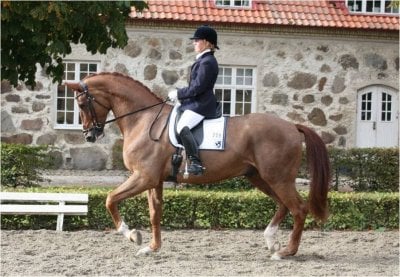 Gelding born 2005. Don Charly - Rex. Breeder Hans Öberg
Succesfully competed to Msv B with 69% at the age of six! Second placed in semi finals of Breeders trophy at Flyinge. 9'th placed in Breeders Trophy final and 14'th placed in open championat. A big, smart and eye-catching horse with great sensitivity! Shows great potential for higher levels!
Owner: Sweden Equestrian Invest
http://www.youtube.com/watch?v=4HMp8T-sZ98
Clients' horses I competed in 2011:
Santé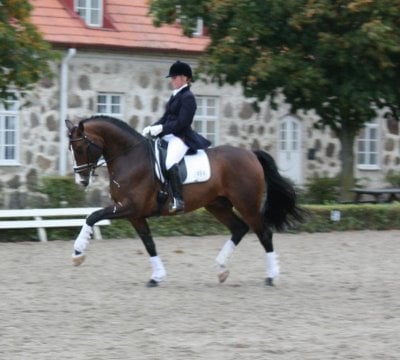 Born in 2007 Sandakan - Chapman. Breeder and owner Eva Perninge
From 2009 to 2011 Karin had the priviliege to train the talented stallion Santé, bred and owned by Eva Perninge. A polite stallion with really smooth and expressive gaits and super rideability! Karin and Santé participated in the semi finals of Breeders trophy in 2010 and in the finals of Breeders trophy in 2011. In June 2011 Karin and Santé also had the chance to particpate in a clinic held by Edward Gal at Bergåkra gård! Santé is now back in training with his owner. We wish them best of luck!
Pearl "Pärlan" 
Mare born in 2003 Blue Hors Future Cup - Lobster. Breeder: Asger Bugge Skjödt. Owner: Jörgen Jarleman
A super sweet mare with big and expressive gates. Competed to MSVB level.
Clients' horses from before:
Look A Like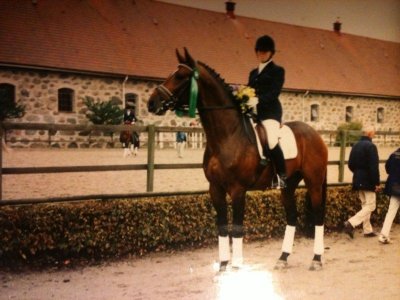 Stallion born in 1998 Levanthos II - Landlord. Owner Göran Furugård
A true eye-catcher! "Lukas" was in training 2001 to 2005. 5'th placed in Breeders trophy finals in 2003. 9'th placed in Scandinavian Open and Breeders Trophy in 2004. Later trained by Falk Rosenbauer at Grönwoldhof and today a member in Norwegian national team for Young riders with his new owner.
Banitsa
Mare born in 2001 Bernstein - Favorit. Breeder Berit Claesson. Owner Cecilia Nordström
"Bunny" is a really talented mare with three really good and smooth gaits. Trained and competed by Karin as a 6-year old and qualified to Scandinavian open scoring 80%. After that she was back in training with her owner but shortly back in training with Karin in 2010 competing MSVB.
Change the Land
Gelding born in 1995 Lanskoy -Immer. Breeder Solveig Bachler. Owner Eva Nyberg
"Femman", an eye-catching black gelding with white socks, nice smooth gaits and really funny to ride. Trained and competed by Karin from 2000 to 2006. Competed MSV B often scoring around 70% and also competed to St Georges with good results. Once in a while he took the opportunity to show something extra in the show ring... Femman is today trained and competed by his owner.
Ina
Mare born in 1994 Underworld xx - Warrigall. Owned by Cecilia Nordström
A super good and elastic lady, with the nicest rideability who just danced in the trot work and showing off an excellent extended trot. Trained by owner together with Karin and showed by Karin. Really succesful up to Prix St Georges.
Nina
Mare born in 1993 Pontus - Owned by Annika Bäcklund and Monika Hammer
Nina is a super polite and ambitious mare with three nice gaits and a super attitude. She was trained by owners together with Karin from 2000 to 2009. She competed succesfully all the way up to Prix St Georges, ridden by Karin. She is expecting a foal by Züedenwind in spring 2012.
Marinette
Mare born in 1992 Magritte - Owned by Caroline Broms
A mare with a heart of gold! The sweetiest horse you could ever find. Super nice rideability and nice gaits. Competed together with Karin to Prix St Georges.
Isidor
Stallion born in 1996 Guinness - Ismir. Owned by Louise Nathhorst.
A super talent who was ridden by Karin one year from age three to four. Showed by Karin at the qualifying test to Swede horse he scored 9,5 for his gaits and overall impression! He later won the finals as well, ridden by Louise. Isidor and Louise also won the five years old and the six years old finals. That made Isidor a winner of one million Swedish crowns. Only two horses ever won "Unghästmiljonen" and those two were Isidor and Tip Top (ridden by Kyra Kyrklund). Isidor later become an international GP horse.